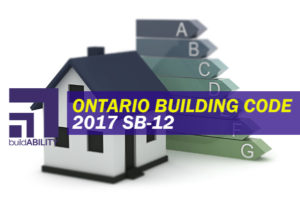 Course Details
Date: On-going
Length: 4 Hours
Where: Online Self-Study Modules
Contact email: training@buildability.ca
---
This online course helps participants understand the Ontario Building Code 2017 SB-12 Energy Efficiency requirements.
In just 4 hours, you will learn about the 2017 changes to the SB-12 Energy Efficiency requirements. Get all the insights and guidance you need to interpret the new requirements from the people who did the background analysis for the new SB-12 2017 energy efficiency requirements in the OBC.Our past in-class OBC SB-12 Workshops in the last cycle were wildly successful with over 2,000 builders, building officials, and designers trained and prepared for 2012.
Content will include:
An in-depth analysis of SB-12 requirements and how to interpret them
Building inspections and building plan examinations using the SB-12 requirements
Includes visual walkthroughs on the requirements using photographs and pictures
Background Building Science
Effective R/RSI calculations
Heat loss
---
buildABILITY Corporation
buildABILITY plays a key role in informing and educating builders, trades, designers, building officials and other professionals in the building industry regarding latest code requirements, energy efficiency practices and next generation housing designs. Members of the firm have been working with individual builders to adopt higher energy efficiency requirements since 1983. The firm has extensive experience working with the full range of builder groups (innovators, early adopters, late adopters, and laggards) in the diffusion of technology and adoption of higher energy efficiency requirements. buildABILITY is consulted on regular basis to help builders understand and select standard prescriptive SB-12 Code packages, ENERGY STAR® builder option packages, and next generation programs such as 2014 R-2000 and near-NZEH designs.
buildABILITY has mentored change in the homebuilding industry for more than 30 years. buildABILITY has worked with builders, governments, manufacturers, utilities, and associations, facilitating the adoption of new technologies and processes, assisting with the adaption to new building requirements, and helping our clients change to become top competitors and leaders. For more information on buildABILITY's projects visit www.buildability.ca.
---
Please note: There are no refunds for this course.
buildABILITY respects your privacy and consent. By registering for this course, you agree to receive email updates and marketing on all of our future training courses and events. You have our commitment that we do not share our mailing list with any third party companies. You have the option to unsubscribe at any time.
---