On March 9th, 2016, Canada's net zero home builders gathered in Ottawa, Ontario to celebrate the wrap up of the NRCan OC ecoEII Net Zero Energy Housing Project.
Owens Corning Canada kindly recognized buildABILITY and other partners on the project for their hard work and contribution to the project in the last 4 years.
Michael Lio, President of buildABILITY, spoke about net zero and what the future will hold on this emerging technology:
"This is an emerging technology. As electricity prices go up (and they are and they will) and as solar panel prices go down (and they have and they will) businesses and the public will increasingly adopt these measures," said Michael Lio of buildABILITY Corporation, a renowned building scientist and manager of the project. "This initiative helped to debug the adoption process so in future, these measures can be adopted seamlessly. To use an analogy: we have built a road through uncharted territory so that others can drive through effortlessly."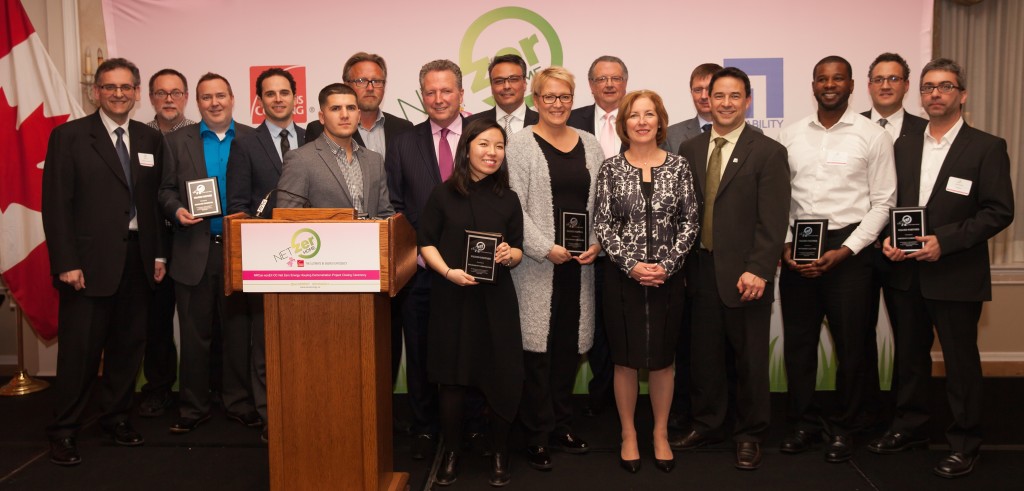 .
From left to right: Michael Lio (buildABILITY Corporation), Colin Currie (Consultant), Dennis Naugler (Hawk-Eye Technical), Clayton Bond (MMM Group), Mehmet Ferdiner (Building Knowledge Canada), Mark Muzyka (Rheem), Ric McFadden (Owens Corning Canada), Candice Luck (buildABILITY Corporation), Salvatore Ciarlo (Owens Corning Canada), Lisa Bergeron (JELD-WEN), Andy Goyda (Owens Corning Canada), Kim Rudd (Parliamentary Secretary to the Minister of Natural Resources), Glen Brown (Leidos Canada), Kevin Lee (CHBA), Clive Carr (Mitsubishi Electric), Dino Gerbasi (Ameresco), John Scourias (Ameresco)