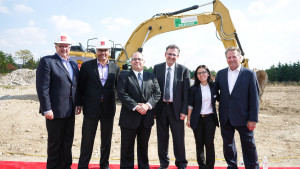 Monday, September 29, 2014 – On site at the Groundbreaking event ceremony
From left to right, Andy Goyda (Market Development Manager, Owens Corning Canada), Salvatore Ciarlo (Technical Services Manager, Owens Corning Canada), Blake Seeberger, (Senior Vice-President, Residential, Reid's Heritage Homes), Michael Lio (President, buildABILITY Corporation), Candice Luck (Director, Strategy & Programs, buildABILITY Corporation), and Ric McFadden (Vice President & General Manager, Building Materials, Owens Corning Canada)
—
Today, Reid's Heritage Homes hosted the inaugural groundbreaking ceremony for a national net-zero energy homes (NZE) demonstration project. Present to mark the occasion was Harold Albrecht, Member of Parliament for Kitchener—Conestoga (Ontario), on behalf of the Honourable Greg Rickford, Canada's Minister of Natural Resources. He was joined at the podium by City of Guelph Mayor, Karen Farbridge, executives from Reid's Heritage Homes and representatives from Owens Corning Canada and The University of Guelph.
The project involves five Canadian production homebuilders constructing a total of 25 net-zero energy homes, for which buildABILITY Corporation is the project manager and lead consultant. The project is funded in part by the federal government's ecoENERGY Innovation Initiative (ecoEII), along with contributions from each participating builder, industry suppliers and Owens Corning Canada.
 "Our government is proud to invest in programs like the ecoENERGY Innovation Initiative which create high-quality jobs and further strengthen Canada's reputation as a worldwide leader in energy innovation," said Mr. Albrecht. "We remain committed to supporting companies that are finding solutions to protect the environment and lower energy bills for all Canadians".     
The project's 25 homes, five from each builder, will significantly increase the total number of NZE homes found across the country, homes that over a year generate all of the energy they consume. While many people already agree that net zero is the future of the building industry, many current NZE homes are custom-built projects, using elaborate designs and expensive technologies and inputs, disconnected from the realities of affordability.
By focusing on affordability and market acceptance, the project's production builders, have taken on the unique challenges associated with mainstreaming NZE practices. This project acts as a platform for the broader adoption of NZE across Canada. "The project's builders and consultants and Owens Corning Canada are leaders in their markets, and should be commended for their initiative and enterprise," said Michael Lio, President of buildABILITY.
"It is hugely rewarding as project managers to see the pieces coming together," said Candice Luck, the Project Manager. buildABILITY initiated the project concept, and promoted its vision for better homes for Canadians to Owens Corning and Natural Resources Canada (NRCan). The firm developed an innovative project structure by strategically picking five regional teams that include five of the largest production housing builders in five of the five most prominent production housing locations in the country each paired with a local housing consultant to provide day to day support.
buildABILITY has been choreographing this national project, including facilitating conversations with net zero experts across Canada, coordinating a national net zero design charrette, and securing project partners, bringing likeminded companies together.
Unlike other industries, innovations in housing do not seamlessly move through market transformation stages and it can take decades to adopt new building practices. "While most organizations work within the confines of one market transformation stage", said Mr. Lio, "buildABILITY exists in the space between each stage, connecting, and integrating. Our focus is on the largest and typically the most expensive consumer product – the house. The company's deep technical expertise and its understanding of the diffusion of innovation allow it to act as a change catalyst for organizations and for the housing industry as a whole."
"We are very pleased with the announcement of the groundbreaking today. It has been an honour to work with the Reid's Heritage Homes, Owens Corning Canada, and the other builders and consultants involved in this project. We are excited to see the finished homes, and to start to see the impact of this project on the marketplace."
—
For more information on the net zero project, please visit www.zeroenergy.ca
buildABILITY Corporation provides a variety of services – from training to publication development to consulting. With a focus on helping clients to adapt to change, buildABILITY inspires action by building knowledge, capacity, and abilities. Since 1983, members of the buildABILITY team have been involved in projects commissioned by various organizations including national and provincial governments, housing authorities, utilities, trade associations, builders, developers, and product manufacturers. buildABILITY builds momentum with companies ready to transform the industry, like these NZE builders and consultants who are changing the game on net zero. For more information on buildABILITY's projects visit www.buildability.ca.
Project Contact: Candice Luck | Director of Strategy and Programs | 416.961.3487| candice@buildability.ca
The ecoENERGY Innovation Initiative (ecoEII), announced in the 2011 Budget, is a $268 million program searching for long-term solutions to eliminate air pollutants and greenhouse gas emissions from energy production. Eligible projects must be demonstration or research & development.